Ian David Goddard
Jump to navigation
Jump to search
Ian David Goddard

Born
May 5th. 1939.


Aldershot, England.

Died
22nd. February 2015.


New Zealand.

Nationality
British.
Employer
China Navigation Co. / NZUE.
Spouse(s)
Helen
Joined CNCo service
November 29th 1960.
Biography
November 29th. 1960. After an apprenticeship and cadetship with Counties Ship Management joined CNCo. on a 2 year Agreement with his 2nd Mate's Certificate of Competence No.88248 issued in London on August 9th 1960.
December 17th. 1960 Standing by the Kuala Lumpur being refurbished at Taikoo Dockyard, prior to joining the Kwangtung II as 3rd Mate on January 6th 1961.
June 6th. 1962. Obtained his 1st. Mate's Certificate of Competency No. 5747 in Hong Kong. Appointed as 2nd mate on the Kweilin II, and relieving 1st. Mate for a month in March 1964 and again in March 1965.
April 23rd. 1965. Proceeded on Home Leave, obtaining his Master's Certificate of Competency in London No. 101446 on February 14th 1966. Promoted to Chief Officer when on leave on March 16th. 1966.
April 14th 1966 Returning from Home Leave, appointed 1st Mate on the Kwangsi I, - relieving Master for one month in June 1967, going on Home Leave On April 20th. 1969.
September 18th 1969. Returned from Home Leave, appointed to special duties with the Unit Section, based in Hong Kong.
April 24th.1970. Transferred to New Zealand, and appointed as the China Navigation Company's Unit Officer, New Zealand.
October 2nd to 6th. 1972. Attended a Cargo Handling Course in Oslo.
November 1st. 1972. Transferred from C.N.Co. Floating Staff to Shore Staff, based in Wellington N.Z.
March 31st. 1991. On the reorganisation of the shipping services between New Zealand and Japan/Hong Kong etc. the New Zealand Unit Express (N.Z.U.E.) ceased to exist after 21 years . Ian Goddard then retired.
Service
Events / Stories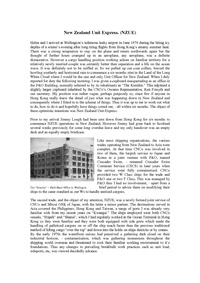 Images