Template:Featured article/December 2020
Jump to navigation
Jump to search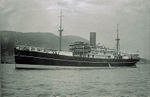 Captain Evans of Anhui
In late September 1941, less than three months before the Japanese airforce bombed the American fleet at Pearl Harbor on 7th December, Anhui II, under the command of Captain (later Commodore) Llewellyn Evans, was ordered to Japan to evacuate foreign nationals to Hong Kong, Singapore and Calcutta.
Sailing south from Yokohama with 370 mainly British and Indian passengers on board, the 3,500-ton vessel battled her way through one of the worst typhoons in living memory. The ship was pounded by 140 mile-an-hour winds and four of her eight lifeboats were ripped from their davits. By the time they made port in Hong Kong, the gallant Captain Evans - who had stayed on the bridge for 24 hours to nurse his ship through the worst of the storm - was a hero to his passengers. Anhui, meanwhile, had begun to acquire a reputation as a "lucky" ship. Click here for more...