Template:Featured article/January 2019
Jump to navigation
Jump to search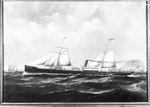 The Loss of Changchow
A file of unremarkable press clippings are all that remain to tell the tale of the last voyage of Changchow in 1884 – a voyage that was in many respects an unusual one.
Changchow was at this time just two years old - the product of an energetic newbuilding programme for China Navigation's rapidly expanding China coast trade. In 1883, less than a year after delivery, she was switched to the company's new liner service to Australia - a trade which also employed her sister ship Taiwan, as well as the three-year-old (and somewhat smaller) Keelung, supplemented in the all-important tea season by Keelung's two sisters, Hoihow and Tamsui. Click here for more....