VR-HDA
Jump to navigation
Jump to search
VR-HDA - Douglas C47B-30-DK
VR-HDA
Model
Douglas C47B-30-DK
Variation
(DC-3) C47B-30-DK
C/N
16243-32991. 44-76659.
Contract Number
AC-15847
Nickname
Niki
Delivery date
March 31 1945
Inaugural Flight
April 21 1945
Length
63 ft 9 in (19.43 m)
Wingspan
95 ft 6 in (29.41 m)
Height
17 ft 0 in (5.18 m)
Crew
Four (Pilot, Co-Pilot, Navigator, Radio Op.)
Passengers
28
Engines
2
Engine Builder
Pratt & Whitney
Engine Supplier
Pratt & Whitney
Engine Type
R-1830-90C Twin Wasp Radial Engines
Engine cylinders
14
Engine stroke
5.5in
Engine Power
895 kW per engine
Engine RPM
1,200 RPM
Speed
224 mph (195 kn, 360 km/h)
Cruise Speed
160 mph (139 kn, 257 km/h)
10,000 FT In
9.5 minutes
Service Ceiling
26,400 ft (8,045 m)
Empty Weight
18,135 lb (8,226 kg)
Loaded Weight
26,000 lb (11,793 kg)
Max Weight
31,000 lb (14,061 kg)
Payload
6,000 lb (2,700 kg)
Designer
Douglas Aircraft
Original owner
USAAC
History
Service
Events / Stories
In 2014 John Swire & Sons' archives department acquired the log book of Captain Stanley Victor Leslie, an Australian pilot who joined Cathay Pacific Airways in 1946, after war service in New Guinea and the Pacific. An interesting entry for 15th March 1948 records that on that day, Vic Leslie took off from Mingladon Airport in Rangoon in one of the airline's seven DC-3s – VR-HDA, also known as "Niki". His route took him to Bangkok and then on to Singapore, where he made a night landing at Kallang Airport. Amongst his passengers were two representatives from the Government of India, en route from New Delhi and escorting an urn containing ashes from the funeral pyre of the recently assassinated leader of the Indian independence movement, Mahatma Gandhi.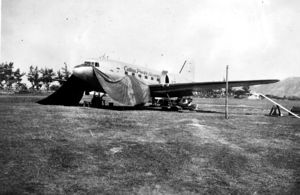 A hundred official guests were waiting on the tarmac and passengers were asked to remain on board during the brief ceremony. A flag and flower-draped basket containing the urn was reverently handed down from the floodlit Dakota, while a children's choir sang Gandhi's favourite song, Raghupathi Raghava Rajaram ("Lovely harmony that would have done justice to Westminster Abbey" according to Vic Leslie). A motorcade carrying the urn then slowly processed through the streets, with The Straits Times reporting that members of the city state's Indian community rushed from their shops and houses to salute the relic of their hero. Gandhi's ashes lay in state for three days at the Victoria Memorial Hall, while daily prayers were offered by members of Singapore's Hindu, Christian, Buddhist and Muslim communities. They were then flown on for three days of public homage in Kuala Lumpur, Kota Bharu and Penang, before returning to Singapore for an immersion ceremony in the sea off Connaught Drive.
The poignant mission was just one of many intriguing events in Niki's career with Cathay Pacific. The aircraft inaugurated the airline's shortest hop between Hong Kong and Macau – on that occasion, executing an embarrassing crash-landing on the race course in front of a packed grandstand of VIPs, after clipping her undercarriage on the sea wall. She also pioneered its longest-haul route to London - a round-trip of 30 days, carrying 17 Chinese students bound for Gatwick in October 1946. Niki was Cathay Pacific's second DC-3, after her more famous sister "Betsy", and she was also the airline's last, remaining in the fleet until her eventual sale in 1961.
Images