Tungchow II / Hsin Peking II
Jump to navigation
Jump to search
Tungchow II
ID /IMO No. 1133255.
Type
Cargo/passenger.
Gross Registered Tonnage
2,104 grt. 1,236 nett.
Builder
Taikoo Dockyard & Engineering Co. Yard No.140
Delivery date
1914
Hull
Steel, clincher construction.
Decks
2, plus a shade deck.
Length
280.0 ft. F'c'sle 28.0 ft. Poop 8.0 ft.
Width
40.0 ft.
Depth
17.8 ft.
Engine Builder
Taikoo D. & E. Co.
Engine Type
Steam, triple expansion.
Engine cylinders
3
Engine Power
196 nhp.
Propulsion mode
Single screw.
Speed
10 kts.
Power
Steam.
Fuel
Coal
Original owner
China Navigation Co.
History
December 18th.1925. Seized by pirates 200 miles south of Weihaiwei while on a southbound voyage from Shanghai to Tientsin, while in sight of the CNCo ship Linan. The pirates had come aboard the ship as deck passengers at Tientsin (Tianjin), On taking over, the vessel was turned to the well known pirate stronghold of Bias bay (Daya Bay) where they looted the ship of US$10,000 in cash and over 30,000 pounds sterling in specie, before escaping. The French police arrested the pirates on February 10th. 1926, eight were sentenced to death and the others handed over to the Chinese authorities.
January 29th 1935. Seized by pirates 10 hours from Shanghai outbound for Chefoo. Again the ship was taken to Bias Bay and looted. A Russian anti-piracy gaurd was killed during the initial attack. During the journey to Bias Bay, the funnel colour was changed and her name painted out. She was passed by a number of other vessels, including a British naval vessel which was searching for her, none of which recognised her. The crew and passengers, which included 73 schoolchildren and three female teachers, returning to Chefoo after the Christmas holidays, were held hostage for four days before an aircraft from H.M.S. "Hermes" spotted them. Also there were 20 American passengers. The passengers were not harmed, however the school children lost their pocket money. The pirates left the "Tungchow" with their loot after hijacking a small fishing junk. The loot included a consignment of dollar notes/bills, however as these were unsigned they were worthless. The "Tungchow" was eventually escorted to Hong Kong by H.M.S. "Dainty".
January 1936. Transferred to the Shanghai - Ningpo service. Ship renamed "Hsin Peking" the name of her predecessor.
December 8th. 1941. (The day after Pearl Harbour) Captured by the Japanese on a voyage from Tongku to Hongkong.
1942. Renamed "Rakuzan Maru"
August 9th. 1945. Bombed and sunk by U.S. aircraft off Rashin, Manchuria.
Service
Built for the China coast trade. Refer to Shengking I
Events / Stories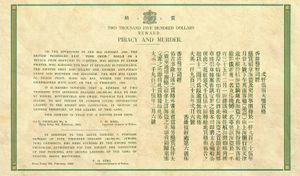 Tungchow was built by Taikoo Dockyard in 1914 for the China Navigation Company's Shanghai-Tianjin passenger service. She was an ill-fated ship. On 18th December 1925, Tungchow was seized by pirates, 200 miles south of Weihai, when southbound from Tianjin to Shanghai and whilst in sight of another CNCo coaster, Linan.
The pirates, who had boarded the ship as bona fide deck passengers, turned Tungchow for the notorious south China pirate stronghold at Daya Bay, where they escaped with well over £30,000 in specie and US$10,000 in cash, making this one of the most successful piracies of the inter-war years. On 29th January 1935, Tungchow was again seized by pirates. This time, she was carrying several hundred thousand dollars in notes from Shanghai to Tianjin. A Russian anti-piracy guard was killed in the initial attack and as before, Tungchow was taken toward Daya Bay. During the voyage, her name was painted-out and her funnel colour changed. She was passed by several ships – including a British warship, which was searching for her – but was not recognised.
The crew and passengers, (who included 73 schoolchildren returning to the Chefoo (Yantai) Schools after the Christmas holiday), were held hostage for four days before Tungchow was spotted by a British naval plane from HMS Hermes. The pirates managed to hijack a small fishing junk, and made off with their booty – though unfortunately for them, the dollar notes were unsigned and therefore worthless. Meanwhile, Tungchow was escorted to Hong Kong by HMS Dainty.
After this incident, Tungchow, which had understandably acquired a certain amount of "bad joss", was moved to the Shanghai-Ningbo service and her name changed to Hsin Peking II – although this was primarily in tribute to her predecessor on the Ningbo Line.
In December 1941, Hsin Peking was captured by Japanese forces, when bound from Tongku to Hong Kong. She was renamed Rakuzan Maru and was bombed and sunk by Allied forces in 1945 off Rashin, Manchuria.
N.B. After Japan bombed Pearl Harbour and entered the war, the school children, who were in Chefoo, were interned at the Weishan camp in the Shantung province. Also interned in the camp were Catholic nuns, Trapist priests, Russian prostitutes, Cuban jazz musicians, and about 500 other children. All the interned prisoners were liberated by United States troops in 1945.
Images